November 15, 2013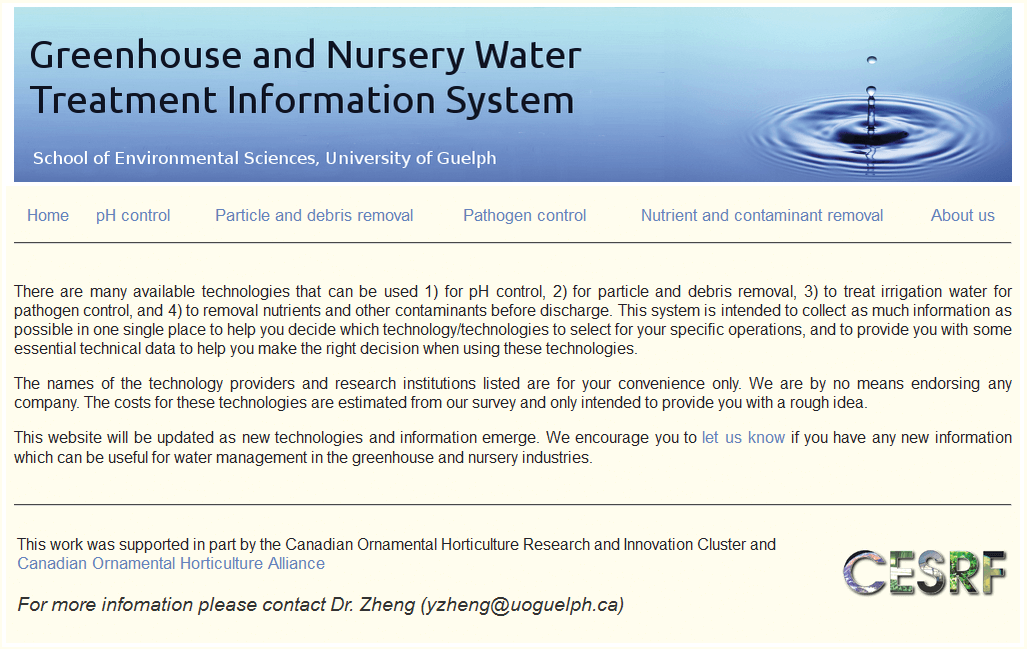 New website offers water management technology info for nursery sector
Dr. Youbin Zheng, the Environmental Horticulture Chair for both Vineland Research and Innovation Centre and the University of Guelph, led a research team to develop a web-based greenhouse and nursery water treatment information system.
For the new system, they collected as much information as possible to help industry members decide which technologies to select for specific operations, and to provide essential technical data to help make the right decision when using these technologies.
The new information system includes technologies that can be used for pH control, particle and debris removal, treating irrigation water for pathogen control, and to remove nutrients and other contaminants before discharge. Rough implementation costs are included.
The website will be updated as new technologies and information emerge. "We encourage you to let us know if you have any new information which can be useful for water management in the greenhouse and nursery industries,"
says Zheng.
The head researcher said the team only used peer reviewed information. "We wanted it to be objective information that the industry could know was proven and fairly reported."
The system also provides some contact information for the technology providers. To access the website, go to
www.ces.uoguelph.ca/water
.
Funding for the project was partially provided by the Canadian Ornamental Horticulture Research and Innovation Cluster and the Canadian Ornamental Horticulture Alliance.