September 15, 2014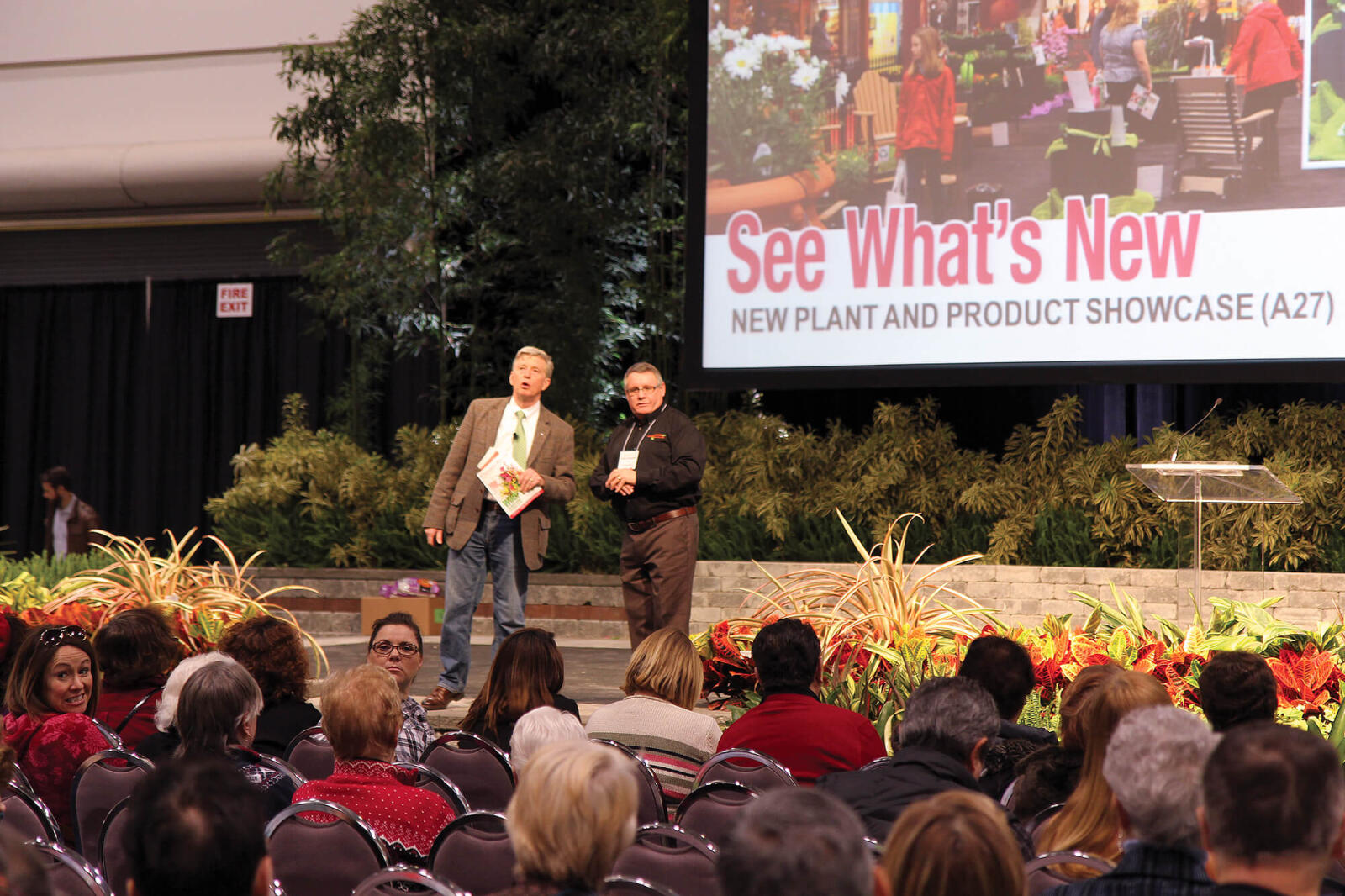 Mark Cullen challenges industry to nurture future members
Canada's best known gardening personality, Mark Cullen, is throwing out a challenge to members of Landscape Ontario.
And, Cullen's challenge isn't just a bunch of words. He and his wife Mary have pledged $30,000 a year for the next three years to support post secondary scholarships through the Ontario Horticultural Trades Foundation.
"I have pledged the money because I feel we need to nurture the young people who want to make this industry their life work," says Cullen. "If our businesses are to continue to thrive, we need to attract good reliable people."
LO executive director Tony DiGiovanni responded, "One of the most inspiring parts of my job is getting to work with contribution-oriented industry members who freely and enthusiastically dedicate their time and resources in order to benefit others they don't even know. They are like the tree planters whose actions today benefit generations tomorrow. Mark Cullen fits the profile."
DiGiovanni said he was excited after reading a hand-written card from Cullen, pledging $30,000 per year for scholarships if LO members match funds. "The challenge has been issued! We proudly accept the challenge because it fits our collective goal of enhancing lives. We look forward to exceeding the challenge," said DiGiovanni.
Cullen says he doesn't doubt the industry will match his pledge, but he would also like to see even more funds come into the Foundation. "Imagine if we could raise $100,000 for scholarships each year," says Cullen. "We could assist up to 100 students with that kind of fund."
He also wonders if is it possible that other industries might look to us as a model for grooming and educating our incoming talent through the Foundation. "Should the Foundation scholarship program not be one of the pillars of the LO of the future? Thanks to John Wright and his board at the OHTF there is a great start and an ongoing, effective program," said Cullen.
This photo, taken in 1985 at Niagara Parks School of Horticulture, shows Mark Cullen with his father Len and son Ben.
---
Make Mark write a cheque!
Help provide educational opportunities for youth in the green trades. Contribute to the Foundation, and Mark Cullen will match the amount. Three easy ways to donate:
---
Established in 1979, the Ontario Horticultural Trades Foundation, through donations from industry leaders, provides funds for both scholarships and research. The Foundation is governed by a volunteer board, comprised of respected industry members.
Commenting on Cullen's pledge, Foundation chair John Wright said, "It's wonderful news that will greatly help our fund, and potentially help more students create a future in our industry."
Cullen asks that if the industry employs over 100,000 in the private sector, and 30,000 more in the public sector, "How many new, qualified people do we need to turn out at the graduate level of post secondary to keep up to the demand for good people?"
He foresees the possibility of helping up to 500 students. "Is that not a reasonable number of industry supported scholarship recipients, given the size, scope and future trajectory of employment in our business?" he asks. "Can you imagine the impact that would have on this industry?"
In reflecting back on his career, he says, "Like many others, this industry has been good to me, and I would like to see young people have the great opportunity to earn a living at something we all love."
As with many second generation members of family businesses, Cullen began his working experience at an early age at his family's Weall & Cullen Nurseries. The company began in 1947.
"One of my first jobs was loading loam into bags for customers," recalls Cullen. "There was no pre-bagged stuff back in those days."
He didn't begin seriously working for the company until he was in his early 20s. By the age of 32, Cullen purchased the six-store Weall & Cullen operation. He sold the company in 2003 to Sheridan Nurseries. "Sheridan has done a great job," says Cullen.
Along with his love of horticulture, Cullen says he always wanted to be involved in radio. Starting out in doing a garden show at small stations in 1982, he eventually was broadcasting his garden show from Toronto's top radio station, CFRB. The show has been running for 22 years.
For the past 10 years, Mark Cullen has been the spokesperson for Home Hardware. He recently signed a ten-year contract with the national hardware chain. He also writes a weekly column for The Toronto Star, which also appears in the Ottawa Citizen, Windsor Star and others. He has authored nearly 20 books and is a weekly contributor on CTV's Canada AM, and he is president of Mark's Choice, a horticultural communication and marketing company.
And, as if that isn't enough, Cullen is the founding chair of Trees for Life, a not-for-profit coalition of groups dedicated to doubling the tree canopy in urban spaces across Canada. Landscape Ontario is a member of Trees for Life.
In 1987, Mark Cullen was named by Landscape Ontario as Communicator of the Year.
Mark Cullen says the industry has been good to him, and he knows that to be true for many other LO members. He believes that it's time to help the next group of young people have the same opportunities to enjoy the benefits of making a living in the green industry.
---
Landscape Ontario Scholarship recipients for 2014
On Aug. 12, the Foundation announced the list of 16 students who were awarded scholarships this year.
The students will be introduced during the Awards of Excellence ceremony at Congress on Jan 6 to 8.
Casey van Maris Memorial
Jordan Valters, Ridgetown/University of Guelph
High School Program
Lindsey Elise McCain, University of Guelph
Tony DiGiovanni
Amanda Henderson, Humber College
Post Secondary
Stephen Corradino, Seneca College;
Scott Ferguson, Humber College;
Zac Hertel, St. Clair College;
Sharri Honsberger, Fanshawe College;
Chadwick Huggett, Fanshawe College;
Jonathan Jacques, University of Guelph;
Michael Masson, Fanshawe College;
Derek McIntosh, Seneca College;
George Peacock, Seneca College;
Patti Prieur, Fanshawe College;
Elizabeth Roy, Humber College;
Matt Shushack, University of Guelph;
Lingping You, Seneca College.
Graduate Research Assistance Program
Tyson Jennett, University of Guelph
The apprenticeship scholarships will not be decided until December.
Two scholarships will not be handed out this year: the John and Ruth Wright Scholarship and the Horst Dickert Memorial Scholarship.