January 15, 2018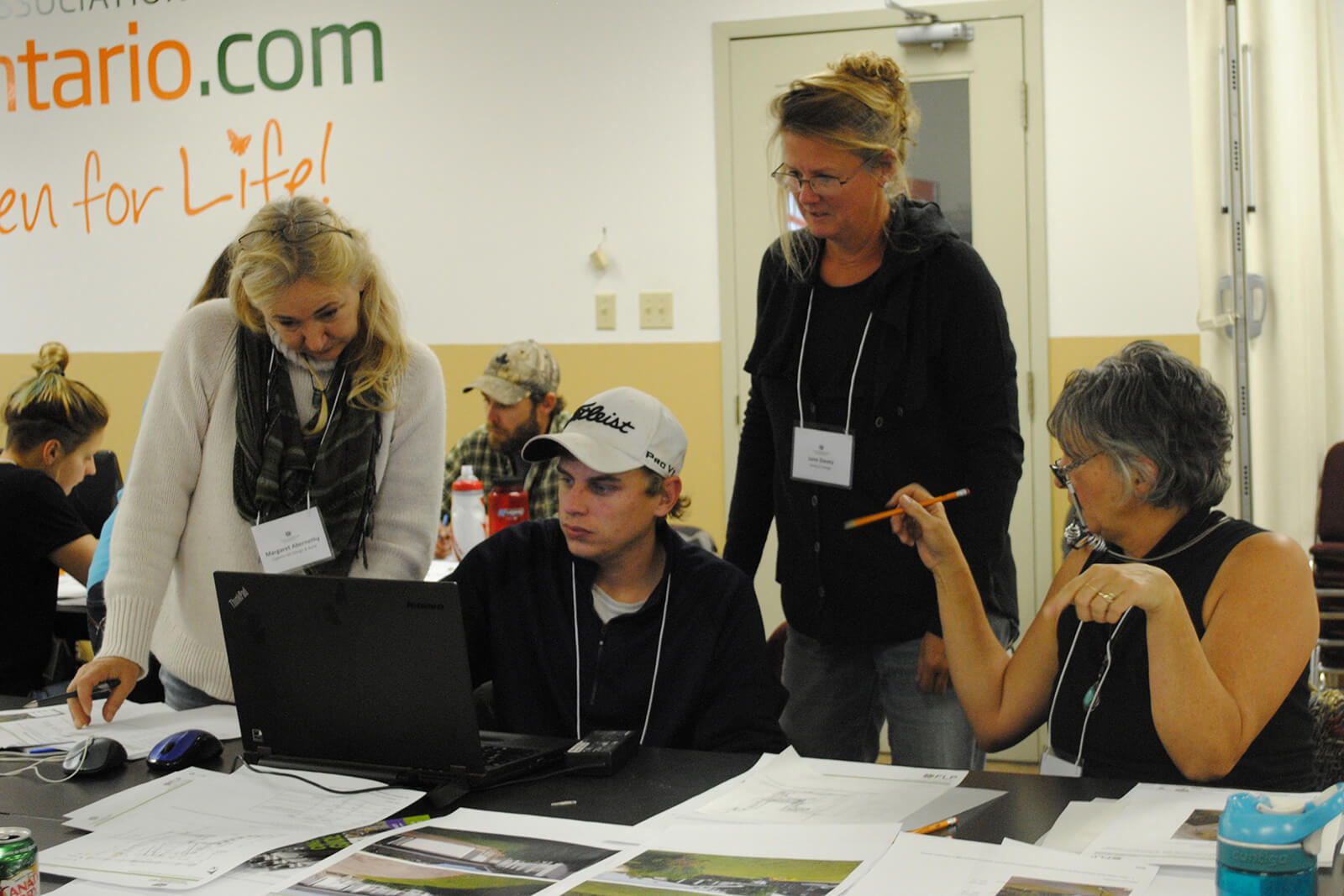 How landscapes can create environmental change
By Cassandra Wiesner
LO Environmental Coordinator
In partnership with the Region of Peel and the Regional Municipality of York, Landscape Ontario has developed the Fusion Landscape Professional (FLP) certification program. Fusion Landscaping combines the art and science of horticulture with the science of hydrology to design, build, install and maintain aesthetically-pleasing, water-efficient landscapes that optimize lot level stormwater management and enhance the environment. The program has been developed in order to help drive market transformation, making water-efficient, environmentally conscious landscapes the new norm.
Many landscape horticulture professionals have been practicing Fusion Landscaping principles for years. However, the program has branded these innovative, environmentally-conscious landscape practices in a way that is marketable to clients. The program covers the science behind Fusion Landscaping, how to sell Fusion landscapes to clients, site inventory, analysis, planning, design, construction, and maintenance considerations.
The first FLP training seminar was held Nov. 1-2, 2017 with great success. The classroom was filled with passionate professionals, actively practicing and working in at least one of the landscape design, construction and/or maintenance sectors.
Margaret Abernethy, owner of Cypress Hill Design & Build in Claremont, Ont., says of her experience with the Fusion Landscape Professional program: "For our company, it validates what we are already doing. It gives a designation to principles that we are already incorporating into our landscapes, so that when we are talking with our clients, we can say we are actually certified in this. It gives a more professional edge to our business."
FLP participant Sean Hayes, president of Clintar Landscape Management Brampton, says he has become increasingly interested in implementing more sustainable water management practices in his construction and maintenance divisions in recent years. However, consumer demand has been sparse.
"Without question, the biggest challenge in getting low impact development out there more is educating the public," Hayes explained. "I'm optimistic that by taking part in the Fusion Landscape Professional Program, I will have the knowledge and the ammunition I need to get the message across on the importance of stormwater management and water conservation to my clients."
There is an expanding market for Fusion Landscaping and the Regions of Peel and York are supporting its development through market-based programming. These regions have developed marketing campaigns designed to influence consumer habits towards Fusion Landscaping. This marketing support is increasing consumer demand for Fusion landscaping and FLP contractors can benefit from this growing market.
The interactive FLP seminar delivered by Credit Valley Conservation in November, inspired creative discussions and innovative ideas that were truly inspiring. The positive impact the landscape horticulture profession can have on our changing environment was very evident. The landscapes we create can provide solutions to the affects of climate change, whether it's managing stormwater, reducing irrigation requirements during drought, or reducing the urban heat island effect, every landscape horticulture professional has the ability to make a difference.
Whether you are looking to grow your business, develop your skills, address municipal requirements, or simply keep up with the latest landscape trends and best practices, becoming a FLP will help you to meet your goals. As a FLP, you will be able to diversify the services you offer, generate a new or expanded revenue stream and stay on trend with the wants and needs of your clients.
The next Fusion Landscape Professional certification program training seminar will be held Feb. 27-28, 2018. Landscape Ontario members can apply online at
HortTrades.com/fusion
. For questions about the program, contact Cassandra Wiesner at 1-800-265-5656, ext. 2397 or
fusion@landscapeontario.com
.
LEARN MORE