April 15, 2015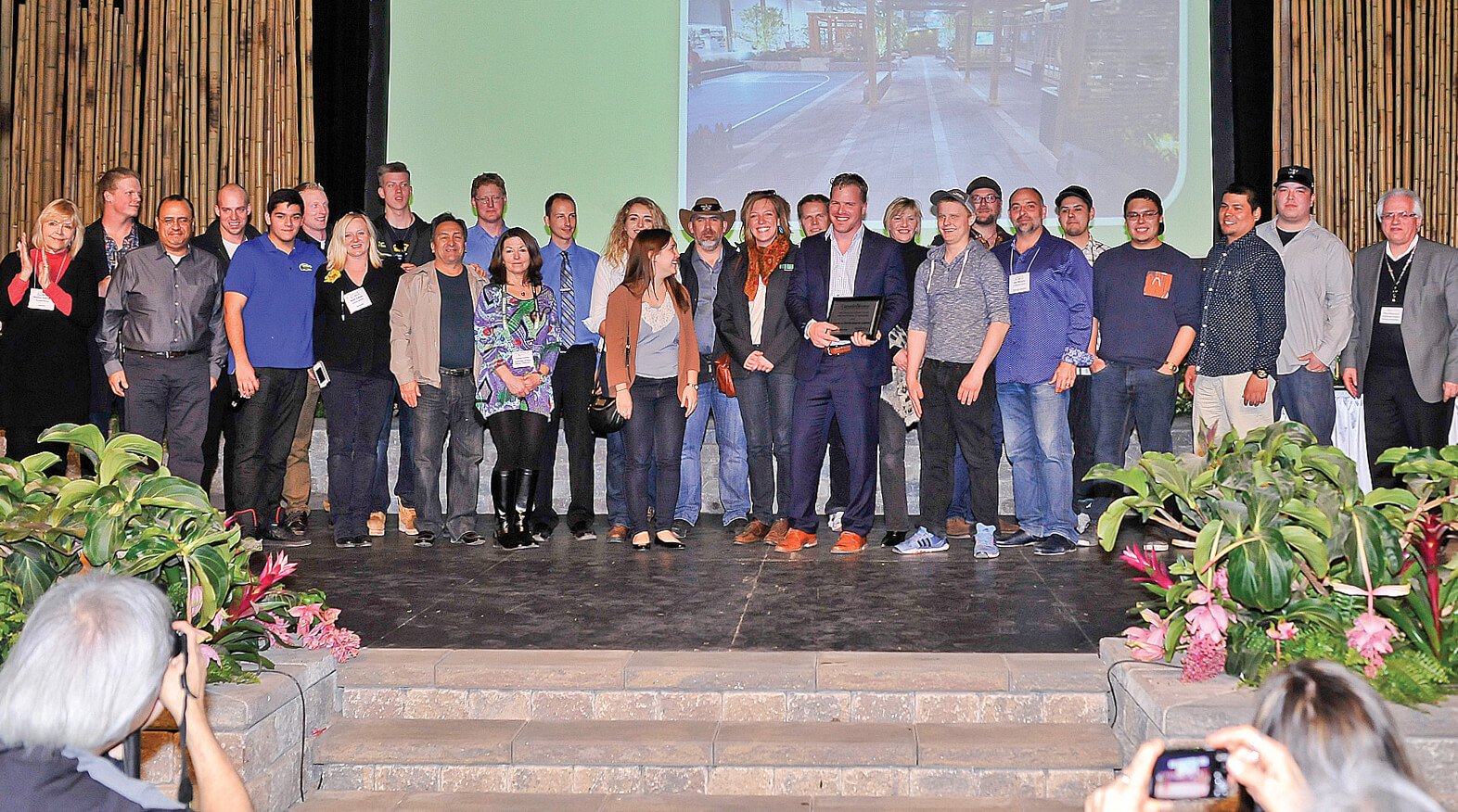 Feature garden winners at Canada Blooms 2015
Visitors to this year's Canada Blooms saw some of the best designed and constructed gardens over the show's past 19 years. It made for tough decisions among this year's judges.
The final decisions were announced at the awards ceremony on Mar. 19, at the Unilock Celebrity Stage, during Industry Night.
Feature Garden Judges included Alistair Johnston, Strybos Barron King; Jeff McMann CHT, Mount Pleasant Group of Cemeteries; Martin Wade OALA, Martin Wade Landscape Architects; Arthur Skolnik, Shibui Landscaping; John Consolati, Consolati Consultants; Christine Gracey OALA, DA Gracey and Associates; Mark Cullen, Canada AM; Michael Prokopow PhD.
Conveners were Ron Koudys OALA, CLD, Ron Koudys Landscape Architects and Kristen McIntyre CHT, Landscape Ontario.
Industry Night at Canada Blooms was a great opportunity for networking among industry members.
---
The following results are the winning entries at Canada Blooms 2015.
Vandermeer Nursery and Earth Art Landscapes
Outstanding use of interior plants, presented by Jill Jensen Botanicals
Sheridan Nurseries Award for outstanding small size garden
Garden Club of Toronto Award for best overall use of colour
Landscape Ontario, Designs By The Yard, Allstone Quarry and Nursery Sod Growers
Outstanding use of annuals and/or perennials, presented by Pick Ontario
Genoscape
Perry Molema Award for outstanding use of water, presented by Aquascape
S.G. Ulbright Award for outstanding medium size garden
People's Choice Award
Landscapes By Lucin
Outstanding use of natural stone, presented by Beaver Valley Stone
W.E. Bridgeman Award for best overall use of hard landscape elements
University Pro Landscapers Paving, Pools & Spas
Elite Environments
Outstanding use of pre-cast pavers, presented by Permacon
Egreen Design
Outstanding use of walkways
Vaughan Landscaping and Jodi Liptrot
Outstanding outdoor living space
Jacobs Gardenscape
Outstanding use of innovative elements in a garden, presented by Floral Dimensions
J. Garfield Thompson Landscape
Humber Nurseries Award for best overall use of plant material
Outstanding use of trees
Judges' Choice Award
Bienenstock Natural Playgrounds
Leslie L. Solty Memorial Award for best overall creativity in garden design
Outstanding interpretation of the show theme, Let's Play! Presented by Isuzu
Parklane Nurseries
Gordon A. MacEachern Award for outstanding large size garden
Outstanding educational garden
AquaSpa Pools and Landscape Design
Outstanding outdoor entertainment area
Landscape Ontario and Shawn Gallaugher Design
Most imaginative garden design, presented by Niagara Escarpment Views
Best overall quality of workmanship
Near North Hardscape
Outstanding use of artistic elements in a garden
Royal Landscaping and Design
Outstanding use of lighting