July 15, 2018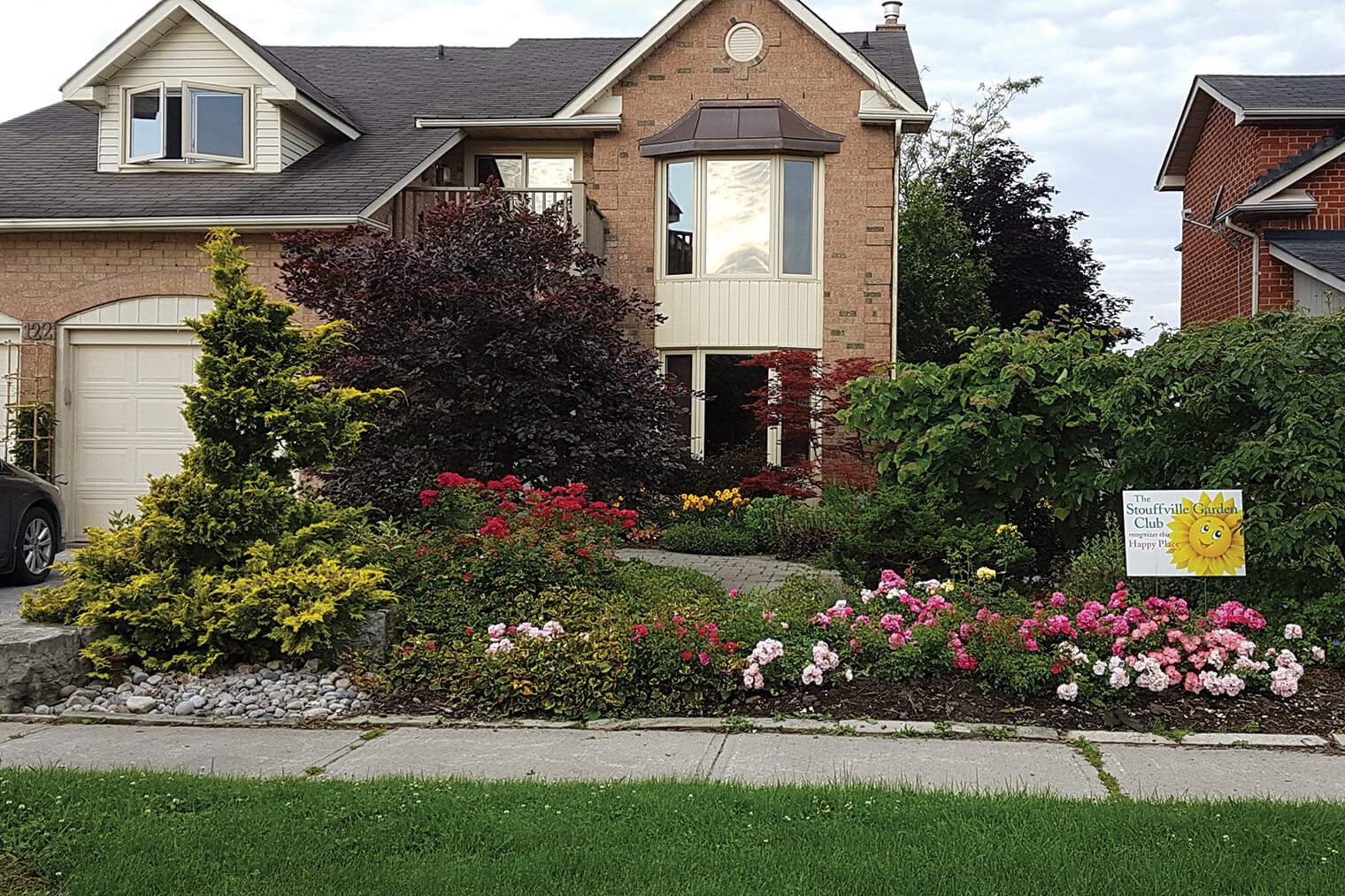 By Denis Flanagan CLD
LO Manager of Membership and Public Relations

A few years ago, I turned my front garden into a courtyard with a tri-colour beech as the focal point. Surrounded by pavers, the back of the area is planted with ninebark, flowering dogwood, Japanese maple and assorted perennials. A small bench is positioned in front of a redbud. Our home is located on a cul-de-sac, which used to have a corn field at the end. Today, a fine crop of townhouses have grown there instead.
Early one morning, I came out my front door to find a young couple sitting on the bench. They had wandered up from the new subdivision and stopped for a rest, thinking the area was a parkette installed by the town. We had a nice chat about gardening and the neighbourhood. Since then, I have met many people when I have been tending to my garden. Recently, I have spent more time than usual in my garden — monitoring and pruning my latest botanical experiment: the combination of ground cover roses with
Houttuynia cordata
'Chameleon' plants. This has proven to be as unique as the comments from people passing by.
An elderly mother and her daughter saunter by every evening and discuss which shade of rose they prefer. And a chatty, eight year-old named Susan stops by once a week with her dad who is an artist, and is keen to learn the English names of many of the plants in my garden. Some of the attempts at translation from my English to Chinese (via Susan to her dad) have resulted in lots of laughter.
Then there is Chantal: a grade eight student who checks in to see how the plants are doing on her way to her tutorial. Chantal has shared with me that her grandmother is a keen gardener in British Columbia and that perhaps she might consider horticulture as a possible career in the future.
I am thoroughly enjoying the interactions that come about as I tend to my garden and it occurred to me that over the last 50 years, Landscape Ontario members have probably created hundreds of thousands of similar front gardens across the province. These gardens not only play the typical role of beautifying neighbourhoods, but just as importantly, they also contribute to the vital role of becoming hubs in every community where people of all ages and backgrounds can have a friendly chat and share stories and dreams.
These days, headlines are often dominated with tension and violence. Perhaps the collective actions of our members should be nominated for the Nobel peace prize.
Speaking of prizes and awards, LO's Kristen McIntyre, who has administered and produced LO annual Awards of Excellence program, has moved on from LO. Thank you Kristen, for your many years of creativity. With this change, we are taking a team approach to towards the Awards of Excellence this year. Amy Buchanan, Myscha Stafford and Meghan Greaves will all be working hard to produce the awards this year and will also have some new ideas for both the program and the ceremony. Each year, the awards ceremony really does showcase the very best projects from LO members, so this is the ideal time for you to start taking photos of projects you want to enter. We hope you will join us to celebrate the best LO members have to offer at the ceremony on Jan. 9, 2019.
Online entry for this year's Awards of Excellence is open. For full details and to enter, visit
LOawards.com
.
Denis Flanagan can be reached at
dflanagan@landscapeontario.com
or at 905-875-1805, ext. 2303.